My Facebook and Instagram Process
So you've got a new campaign coming up? At Direct iT, we have found that it is imperative that physical advertising runs in tandem with digital and social media advertising.
This means that a prospective client receives a phone call and mailer at their business at the same time as our advertising appears on their social media feeds and our e-mails hit their inboxes.
1. Design and upload an Ad Creative (based off the postcard)
2. Upload Custom Audience List (.csv format) to Facebook 3-4 days before delivery of postcards.
3. Set up the Ad creative with the Audience List. Set Budget and Schedule.
4. Make sure that your landing page is correct for your campaign.
5. Wait for Facebook's review process to finish and confirm that the ad is scheduled.
6. Take a look at the performance after two-to-three days and tweak the campaign to better optimize it.
Facebook's Ad Manager allows you to run targeted advertisements on both Facebook and Instagram from the same Ad Manager. Make sure that your business's Instagram account is linked with your Facebook Business Page.
Samantha Process (Done-for-you Social Media Posting)
1. Set up a meeting with Samantha Bi-Weekly with an update on upcoming campaigns.
2. Send her the Postcard, landing page, and ad.
3. Samantha sends proposed drafts.
4. We either approve them or ask her to edit and review again.
5. They should be posted while the phone calls are going on.
---
Closer Look Postcard and Closer Look E-Mail
Click on any of the images below to download a higher-quality version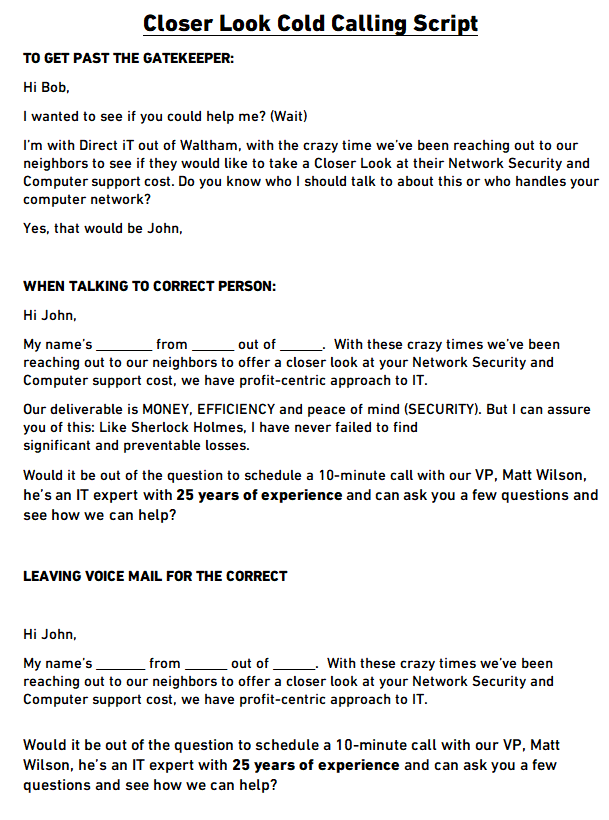 ---